STRATEGIC
The Newsletter for Hospital Strategists
Volume 19, Number 2, February 2001
The Era of Knowledge in Healthcare
By Lou Pavia
Healthcare is entering its third era, the Era of Knowledge. Advances in technology and rising consumer expectations make this shift not only necessary but also beneficial. Those organizations that do not leverage technology to shape and accelerate their strategy will be at a significant competitive disadvantage.
The era of insurance, the first healthcare era, ran from the 1940s through the 1970s. This period was provider centric. Patients had unrestricted access to healthcare services, requisite services and their prices were determined by providers and patients viewed their physician as their advocate and custodian of their health.
<![if !vml]>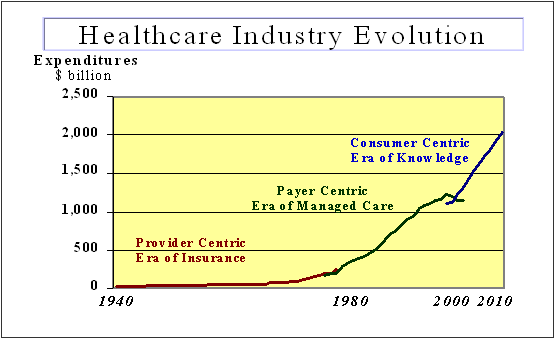 <![endif]>

Cost escalation brings managed care
Costs were reasonably stable until the end of this period. However, the population began to age and medical advances made it possible to diagnose and treat more ailments dramatically increasing utilization. Further, as employers began competing on a global basis, costs became an increasingly important consideration. This led to the era of managed care, which lasted from the 1980 until today. During this era the payer was at the center of the system; negotiating prices, managing utilization and restricting access. Adversarial relationships and barriers developed between patients and both payers and physicians.
The availability of information, wide variations in care, inconsistent clinical outcomes, medical mistakes, multiple treatment options and an expectation and financial incentive for patients to be involved in the management of their health and healthcare are driving consumers and payers to demand not only cost effectiveness but also clinical and service excellence.
This is the consumer driven era of knowledge. Diagnostic and treatment innovations will extend life expectancy, adding 1 year each year by the end of the decade, dramatically reduce knowledge failures and the costs associated with them and drive down the unit cost specific interventions. However, healthcare cost will continue to grow exponentially as a result of the aging population, increased number of interventions and the continued quest for immortality.
Healthcare too complex for "individual expert"
Healthcare is becoming too complex for the traditional "individual expert" based approach to work. There are already:
¨ 10,000 known diseases
¨ 3,000 drugs
¨ 1,100 lab tests
¨ 300 radiology procedures
¨ 7,000 current procedural terminology (CPT) codes for physician services
¨ 1,000 new drugs and biotechnology medicines in development
¨ 2,000 individual risk factors
Technology will continue to fuel this complexity and the opportunities for expanded and improved healthcare. Organ and tissue scanning speed is doubling every 26 months making tests faster, cheaper and more useful. This will allow us to not only understand the disease process better but also intervene more quickly and more precisely. Image resolution is doubling every 12 months. This enables us to shift from invasive testing such as cardiac catheterization to non-invasive procedures such as MRI or CT. The increase in computer power (4 fold over the next 20 years) and the availability of inexpensive bandwidth will extend the shift in the testing site from outpatient centers to the home and within the body.
Genetics has increased the number of potential drug targets from 400 to over 4,000. Computer power has also accelerated the screening and testing of new compounds shortening the drug discovery process by years. Drugs designed for smaller segments of the population based on their specific genetic composition will drive the need for more precise diagnostic testing and more exact care.
Care will be more personalized, customized
With over 33 million people routinely using the Internet to gather and share health information and the digitization of clinical information, we will expect care to be more personalized and customized to both our clinical needs and our service expectations. Practices and procedures will also be scrutinized more quickly and more thoroughly and best practices will become the standard of care in every community.
Right now there are still significant shortcomings in our healthcare system. Sixty percent of inpatient care is unnecessary or non-beneficial based on best-demonstrated practices. Morbidity and mortality vary greatly based on geography, facility and clinician. Risk adjusted mortality for CABG surgery, for example, is four times greater in the lowest quartile hospitals than it is in the best hospitals. The Institute of Medicine suggests that up to 100,000 people die from medical mistakes in hospitals each year, the 8th leading cause of death. The typical drug is useful in less that 50% of the target population due to adverse reactions or ineffectiveness. Less that 50% of physicians follow clinically documented protocols such as recommending certain tests or medications in specific situations.
These knowledge failures cost society in excess of $100 billion each year.
Providers must understand the implications of technology and consumerism and harness their power to drive strategy. Information systems strategy must shift from defining systems strategies and infrastructure needs in parallel with corporate strategy to a catalyst to accelerate corporate strategy.
Must reassess systems, strategies
Success in this era of knowledge will require healthcare organizations to reassess both their Information Systems and their Corporate strategies. An integrated plan enabling your organization to capitalize on these trends and accelerate the attainment of your strategic goals and objectives is necessary.
Strategies and investments must be evaluated in terms of their ability to improve or expedite:
¨ Physician and hospital cost effectiveness
¨ Disease management and clinical decision making
¨ Patient, physician and employee satisfaction
¨ Clinical and service quality
¨ Physician to physician and physician to hospital alignment
¨ Customer acquisition and loyalty
Basic strategies in healthcare organizations have not changed in the past three years yet the market is changing at an exponential rate. Healthcare services are increasingly being commoditized as technology allows services to become decoupled from institutions and consumers have ready access to what historically was information limited to healthcare professionals.
Infusing knowledge into services will differentiate
This era of knowledge demands that organizations be much more effective at:
1. Collecting and analyzing clinical, operational and market data
2. Synthesizing and organizing these data into information useful for decision making
3. Managing and sharing information to enhance the useful knowledge of consumers, patients, clinicians, staff, managers and board members
4. Using knowledge to reduce costs and create new products and services
5. Rethinking how to add value in order to attract, serve and retain customers
It is those organizations that infuse a high knowledge content into their services that will be differentiated in the market and hold a sustainable competitive advantage.
Louis Pavia, Jr., formerly with McManis Associates, is President of CareCompanion. He can be reached at 703/409-2054 or via e-mail at lpavia@carecompanion.com.
<![if !vml]>

<![endif]>CareCompanion News Page